| | |
| --- | --- |
| 15 November 2013 | Handling Your One-Off Cleaning Chores |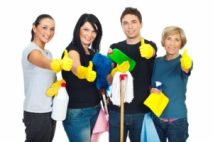 Cleaning up your home or workplace requires you to regularly partake in chores and tasks, just so your abode will be clean and sanitary. These jobs can be stressful, time consuming and hard work and is thankless yet necessary, yielding only a brief reward before things are back to being messy, dusty and dirty again. There are times though, when a cleaning chore won't be a part of our regular tasks but a larger one-off task. These can occur for several reason such as spring clean, the desire to tackle a large amount of mess that has built up, the disarray that has been caused by an event such as a party or meeting, etc. If you are about to embark on such a clean or want to be prepared for one, then read on to see how to tackle them.
If you have committed lots of time and energy to your big clean, then it can be worth being thorough and this means despising of many items. Over time you will amass items and eventually some won't be needed because they are broken, unnecessary, worn and so on. These items will only be taking up space, making things look cluttered and be cleaned on a usual basis for no reason. If you have such items then you should dispose of them.
One way of disposing things is to simply throw them away. During a big clean you may be anticipating this, so having many waste bags you can toss everything into will be useful. Once everything is sorted, you can have them collected with your usual refuse programme or hire a skip to place everything inside. You should consider recycling items if possible, so use your local collection, nearby recycling bins and/or contact your local depot who may be able to collect the items for you. If your goods are still useable then you should definitely try to sell them to second hand stores, online, in papers, etc. Charity stores will be happy to accept unwanted goods the can sell and you may have something of interest to an acquaintance.
If you are about to have party at your home, a large meeting at your office, or some similar event, then you should be ready for it. Lots of mess can be created from this so the more prepared you are, the less work you will have to do later. Stock up once clearing supplies, especially cloths and paper towels, so that the moment any food or drink hit's the floor you can wipe it up. Have napkins and many disposable plates, cups, etc available and it will encourage guests to use them. Have bins stationed around so people will dispose of things properly. Keep guests confined to where they should be to prevent dirt and litter from spreading and remove items that can easily break or fall over from such areas.
A one-off clean can be such a large task that you should be adequately prepared. This will involve writing up a schedule so you now when to do tasks, can ensure each one will be given enough time and that you don't forget anything. Use this as a way to assign different task to other so more people will get involved. Make sure you buy everything you need for the clean beforehand so you can tackle any task, so stock up on polish, detergents, bleaches, wipes, a paper towels, a mop, brushes, dusters, a good vacuum, etc.
If you are about to engage in a one-off clean, take all this into account and it will go successfully.